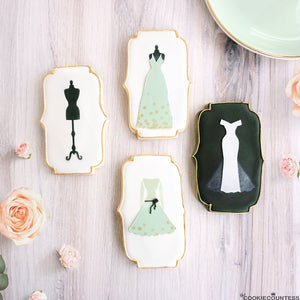 Wedding Dress Maker - 3-piece Stencil
Use these 3 stencils to design the perfect wedding dress. Layer airbrushing and royal icing to create veils, trains, skirts and sleeves. Use dots of royal icing to embellish your design with jewelry or lace.
Long dresses are approximately 3.3" x 1.6". Overall stencil size is 5.5" x 5.5". Pink sections in image are the open sections. Stencils are 5mm food grade plastic, washable and reuseable.