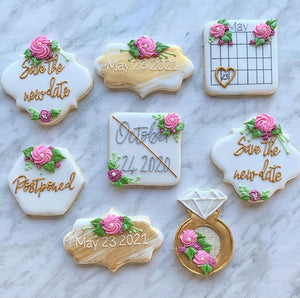 Wedding Custom Sugar Cookies - Request a Quote
Handmade, custom-designed vanilla sugar cookies. If you can dream it, we can bake it! Here's a sampling of our wedding designs, which can be incorporated into any occasion.
Cookies are approximately 3 inches. Pricing is based on a dozen cookies (12) so if the quantity is 2, you will receive 24 cookies. Minimum order 1 dozen. Cookies are $36.00 per dozen and for individual wrapping with ribbon, please add $3 per dozen
Custom orders must be placed 7 days in advance.
At Sugar + Butter Baking Co., we believe you should never have to pay for your dietary restrictions, so gluten free and vegan options are available at no additional charge.
Please note: This is a quote request. We will be in touch within 1 business day to confirm if your date is available and to discuss design options. Please continue to checkout and complete the checkout process. You will not be asked for your credit card information. Payment will be required upon booking your custom order.