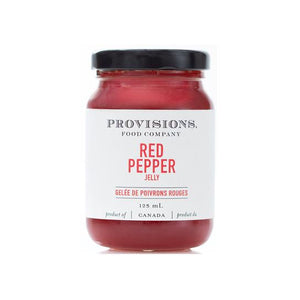 Provisions Food Company - Red Pepper Jelly
A perennial favourite!
Our Red Pepper Jelly perfectly balances the sweetness of ripe red peppers with the zesty heat of Scotch Bonnet Peppers. Pair with cream cheese and crackers for an easy, delicious appetizer. Serve with a full-bodied Pinot Noir or Cabernet Franc.
INGREDIENTS | sugar, red peppers, vinegar, pectin, scotch bonnet peppers, salt, citric acid.