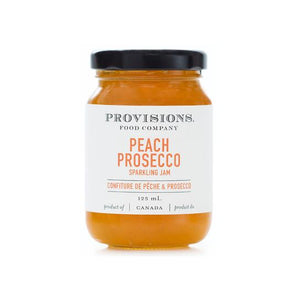 Provisions Food Company- Peach Prosecco Sparkling Jam
Inspired by the famous Bellini cocktail, this jam combines sweet peaches with the fun fizz of Prosecco. Serve with creamy cheeses.
INGREDIENTS | sugar, peaches, Prosecco, pectin, citric acid, natural flavour, ascorbic acid.
CONTAINS | sulphites.
All Natural. Vegan. Preservative-, Fat-, and Gluten-Free.