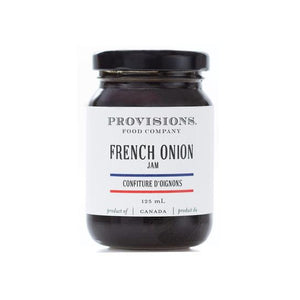 Provisions Food Company- French Onion Jam
Très délicieux!
This savoury jam tastes as wonderful as it sounds. Pair this rich and savoury jam with mountain cheeses and crusty breads.
INGREDIENTS | sugars (white sugar, brown sugar), onions, balsamic vinegar, red wine vinegar, pectin, sea salt, citric acid, natural flavour, thyme.
All Natural. Vegan. Preservative-, Fat-, and Gluten-Free.